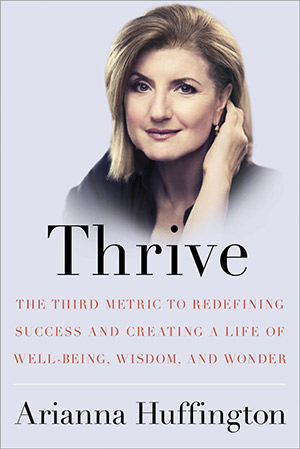 Thrive: The Third Metric to Redefining Success and Creating a Life of Well-Being, Wisdom, and Wonder
by Arianna Huffington
I am obsessed with this book. I literally wake up in the middle of the night just so I can read one more chapter, which is actually contrary to what the book is hoping to achieve. I met Arianna Huffington at UCLA in April when she was here promoting her latest book "The Sleep Revolution" on the irrefutable importance of sleep. I have always been a firm believer in sleep, especially since learning that sleep deprivation is a serious form of torture. I had always admired and respected Arianna as one of the most prominent political analysts in the world, but I had no idea she was as affable as she is. She has a great dry and quick wit.
When she found out I was Greek we had an instant bond and I couldn't wait to start reading her books.
In "Thrive," Arianna Huffington draws from the latest scientific research in the fields of psychology, sports, sleep and physiology to prove the vital importance of unplugging and spending daily time in mediation, mindfulness and giving. She cites numerous studies that have unequivocally proven how these practices actually increase productivity in business, sports and our personal lives.
Some nuggets from this book:
"To live the lives we truly want and deserve, and not just the lives we settle for, we need a Third Metric, a third measure of success that goes beyond the two metrics of money and power, and consists of four pillars: well-being, wisdom, wonder, and giving."
Regarding Unplugging, "Obsessed is not the word. 'Addicted' doesn't sum it up either. 'Tethered' on permanent phone – IV."
I am only three-quarters through the book but I couldn't wait to share it with you.
If you've read it, or read it in the future I'd love to hear your thoughts.