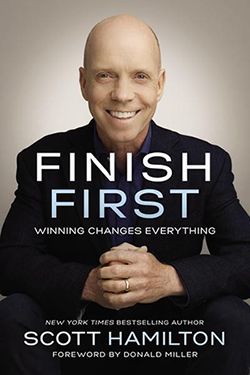 Scott Hamilton is best known as an Olympic gold medal figure skater. However his grit, drive, tenacity and faith have kept him in the game of life through severe illness as a child, three bouts of cancer, a reoccurring brain tumor and all of the other pitfalls that life offers.
I met Scott last fall when we were working together on a CBS television special honoring cancer survivors and thrivers. On the outset he was extremely easy going, kind, and considerate. I was thrilled to have time with him hanging out on stage waiting for our cues to get a glimpse into his depth of character and faith.
Scott Hamilton's book, "Finish First" is my new favorite read. It is a fast read (I literally read the whole thing flying from LA to Omaha, Nebraska) filled with insight into how to stop being mediocre and instead strive for greatness. In glancing back through the book I see that I've literally highlighted and/or annotated something on every page. The nuggets of wisdom and advise he offers are clear, concise and extremely practical IF … IF you want to achieve something greater than you're currently experiencing in your life and IF you are willing to give up your excuses and do the work. As you might surmise this book isn't just about finishing first in athletics it's about finishing first in Life. This book is a great refresher for anyone excited about achieving more on a daily basis.
Scott is quick to shoot down all of the excuses we routinely use when we simply don't want to put in the effort. When talking with people about this or his children about obstacles his favorite mantra is "The only disability in life is a bad attitude." To give credibility to this statement he sites the work he does with the Paralympians and how they don't even see their disabilities as anything but normal. He also recounts the incredible feat that Kyle Maynard accomplished in climbing Mt. Kilamanjaro with no arms or legs.
While I truly enjoyed every page of this book, this paragraph from page 20 might be my favorite passage:
"If each of us decided today that we were going to be a little more productive, a little more sacrificial, a little more selfless, a little more kind, a little more forgiving, and a little more hardworking, the planet would change in an instant. That's the kind of victory I'm pulling for. That's what it would look like for us to finish first."
Photo by Gaelle Marcel