Available Everywhere!
Life is Short, Don't Wait to Dance
The choices you make dictate the life you lead. Be bold, fierce and authentic. Choose gratitude, kindness and joy. Learn how to define your own success.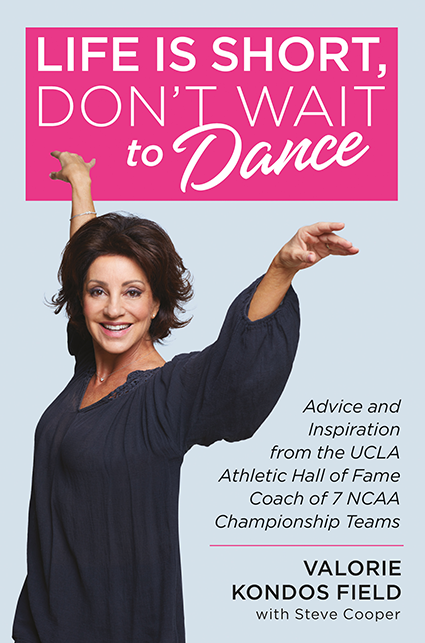 ---
WHERE TO BUY
For bulk orders, please contact Vroman's Boostore.
---
DESCRIPTION
LIFE IS SHORT, DON'T WAIT TO DANCE is a thought-provoking, fun journey through the personal stories and anecdotes of my 36 year career as a Gymnastics coach at UCLA. My story details how I, a professional ballerina, became one of the winningest head coaches in NCAA history. Included are my favorite memories I experienced with my mentor, legendary coach John Wooden; as well as some of my most unforgettable stories of the Olympians and student-athletes I've coached.
I share my biggest blunders and most life changing aha moments as I stumbled through figuring out how I wanted to philosophically lead an athletic team, considering I'd never been a competitive athlete. Many of my coaching choices are unorthodox. They work because they are intentional and meant to embrace my overarching philosophy that athletics is a masterclass in life skills.
I also share the details of my most challenging year when I was diagnosed with an aggressive form of breast cancer. Putting all of my coaching philosophies to use, and using gratitude as my most powerful weapon, I was able to turn a potentially devastating year into one of the most impactful years of my life.
Regardless of your age or occupation, Life is Short, Don't Wait to Dance offers different ways to view life challenges and will encourage you to define your joy, your success and your life one choice at a time.
TESTIMONIALS

Kevin Plank Founder and CEO of Under Armour
Coach Val was smart enough to have been naïve enough to not know what she could not accomplish. Ballerina to championship gymnastics coach–will certainly finds a way.

Simone Biles 4x Olympic Gold Medalist
Miss Val's coaching technique really appealed to me because it was very different than elite gymnastics. She always reminds me before meets, never take life for granted and to cherish every moment.

Mary Callahan Erdoes CEO J.P. Morgan Asset & Wealth Management
Valorie Kondos Field's scope goes well beyond gymnastics… Miss Val is the life coach we all need in our corner, be it the boardroom or in the arena. I encourage all CEOs who want to tap into their fullest potential to become a student of Coach Val.

Jordyn Wieber World Champion, Olympic Gold Medalist
After meeting Miss Val, I have a new found love and passion for the sport. She creates champions while putting their health and well-being first and allowing each athlete's uniqueness to flourish. She is a coach, mentor, leader, and friend who saw the potential in me before I saw it in myself and helped me grow to be the person I am today.

Jim Mora ESPN College Football Analyst
Having a role model like Val early in my college career was really important to me because I saw the interaction she had with the women on her team and how winning was certainly important, but not the most important thing.

Kathy Johnson Clarke Sports Commentator, 1984 Olympic Medalist
After years of observation I can say with unbridled respect and full-throttled enthusiasm it is Miss Val's turn! She truly is one of the brightest beacons of light in the gymnastics world!
William D. Parham, Ph.D., ABPP Director, Mental Health and Wellness Program for NBA Players Association
Miss Val's not-as-you-would-expect approach to coaching has positioned her to ink 7 NCAA Championships. Her success has inspired many who have witnessed her gifts and genius as a coach, mentor and healer.

Sue Enquist Founder of ONE Softball, Former UCLA Head Softball Coach, 11-time National Champion
Miss Val is a force of nature. Her journey to the top is a riveting story. Her demand for personal excellence and her ability to create belief in her student athletes provides for a great read and success model for all.

Nastia Liukin Olympic Gold Medalist
It's really easy to give up when things are not going your way, or when things are challenging, or when you have adversity or struggle, but she always stays positive.

Johnny Kim International Cirque Artist
She nurtures that kind of potential into so much excellence that even standing in a room with her and listening to her speak can bring you to a level you didn't even know you had in you.
---
CONTACT
MEDIA INQUIRIES:
Danielle Dorfman – danielledorf@yahoo.com
"LIFE IS SHORT" BULK BOOK ORDERS/
MISS VAL SPEAKING ENGAGEMENTS:
Gary Minzer – 310-600-3596; minzerdude@aol.com